Pristine environments for
the adventurous traveler
"Exploration is really the essence of the human spirit"
-Frank Borman
What is Da Nang Waterfalls?
Da Nang Waterfalls is here to help you find the hidden gems in the mountains surrounding Da Nang. Places most travelers miss and are virtually unexplored by non-locals. I have spent 3 years trekking through the jungles in the area and these are my favorite places so far.
Join us for one of our adventure tours!
These treks are for experienced hikers. The jungle can be thick and unpredictable, paths may be steep and without shade, and the flow of water can be quite strong. Please understand that some locations are seasonal, and that we reserve the right to stop the tour at any time if we feel the conditions are too hazardous.

Contact us to join a clean up mission or to donate.
For us, environmental conservation is of utmost importance. Donations will go towards the the conservation and clean up of these areas. Vietnam is all too efficient at destroying it's own natural wonders and Da Nang Waterfalls wishes to demonstrate how conservation can be beneficial to everyone. For us, maintaining the natural environment is of utmost importance.

Memberships are our way of sharing these locations, that we love, without them becoming exploited, trashed, or built up. Memberships also support us as we continue to trek, explore, and find more amazing places to share.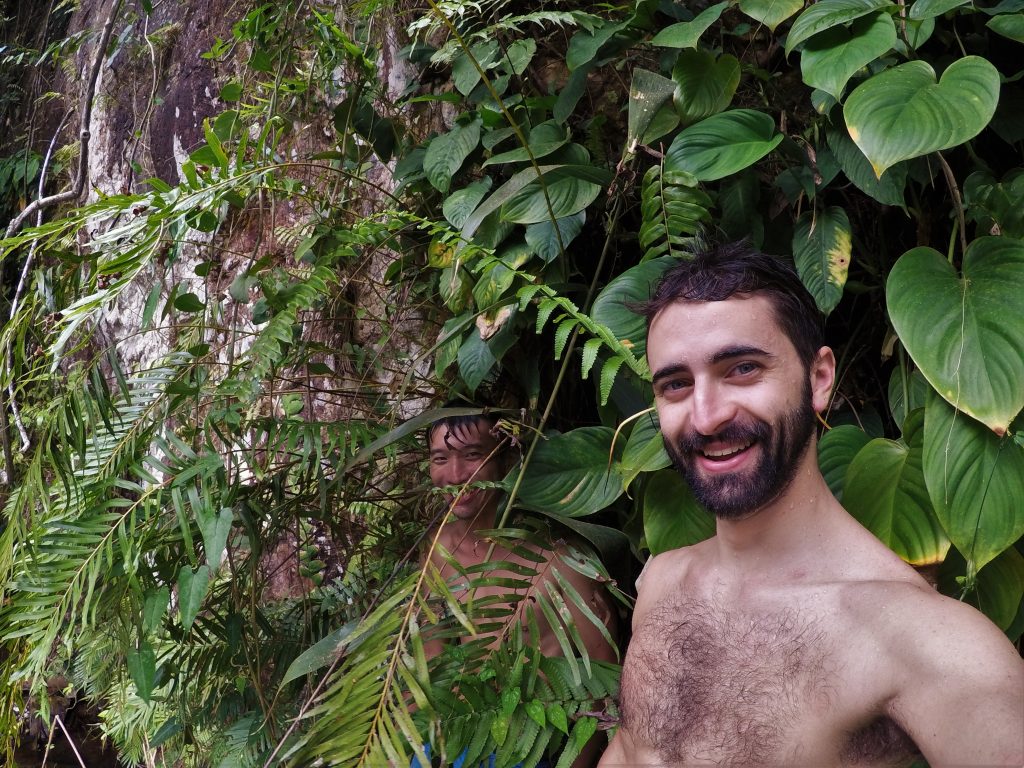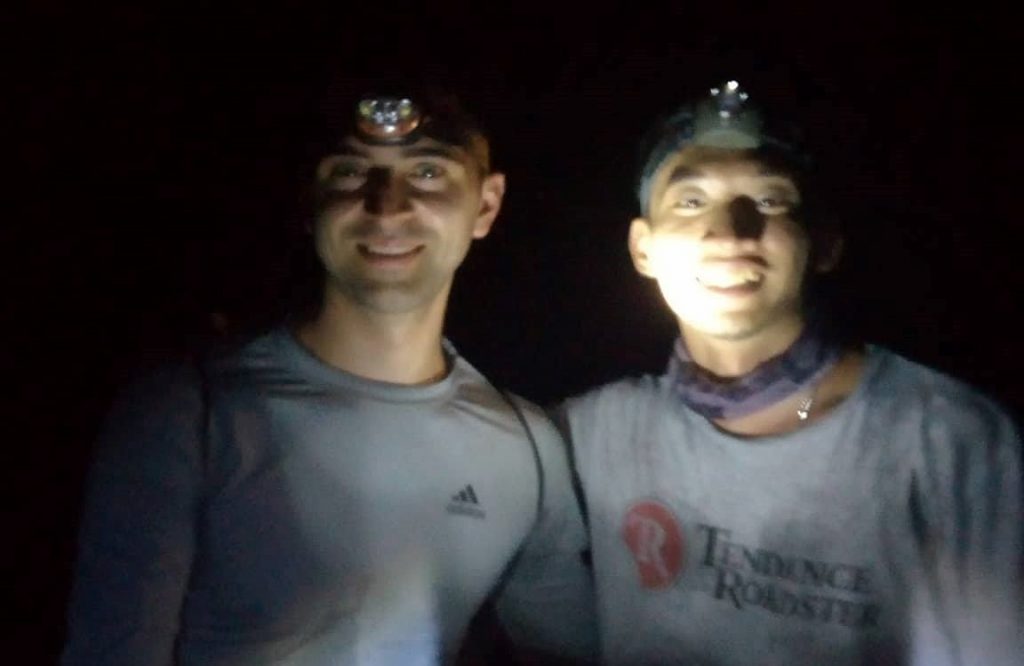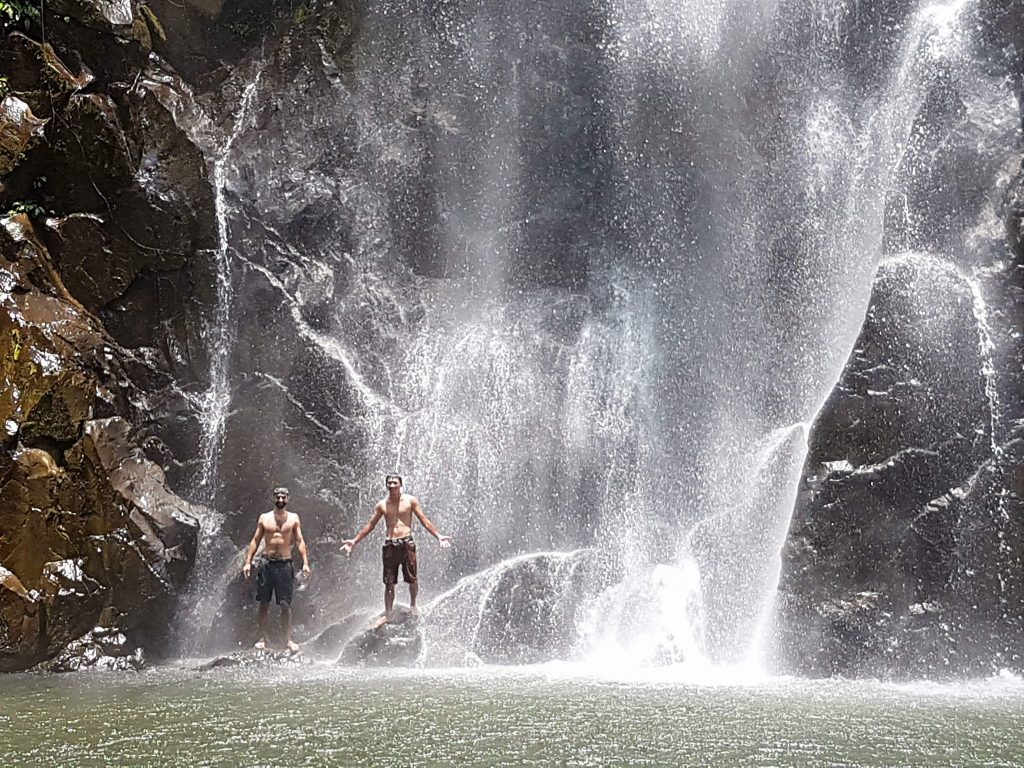 Waterfalls
Warning: These are jungle treks for physically fit, experienced trekkers. These hikes are through the jungle with varying conditions based on weather and season. Locations do not include restaurants, service, or bathrooms. Some locations have trails which may have thick underbrush and may include walking uphill. Efficiently packing is highly recommended.
*Note: Drive and hike times are one-way estimates and vary day to day
Shattered Falls — Overnight Trek
This is likely the biggest waterfall in Da Nang. It is absolutely breathtaking and has everything- beautiful scenery, a big pool, climbing, swimming, and cliff diving. This tour is only available as an overnight as it is 3.5 hours of hiking each way. The tour includes 7 meals, coffee, camping supplies, and a porter who will carry, cook, and set up all of the above.
*Proper footwear and physical fitness are both a must, as you will be hiking a mix of trails and river beds.
Overnight Tours– Shattered Falls 

-only $90 per person (2.1 million Vnd)
-Includes 7 meals, coffee, and hammock
-Porter who will carry, cook and set up
-At least 2 people required
This series of three waterfalls was probably the best value on the list. There has recently been a lot of deforestation around the trail, but the area near the waterfall is still nice. It's about an hours drive and less than an hours hike along a path. This is a series of three waterfalls each being uniquely beautiful. This area includes the smaller cave-like waterfall Split Boulder Falls. Also a double waterfall that empties into a 17 ft. deep pool with high walls: perfect for swimming, jumping, and climbing. Finally is what I consider one of the most picturesque waterfalls in the area, the triple waterfall: Dominion Falls.

The route to Valley Falls consists of a gorgeous drive through a countryside valley along a beautiful river surrounded by farms and rice paddies. It offers beautiful views and several swimming areas along the way. The actual falls is long and sloping and has some decent areas for short slides. There are excellent places to hang out in the shade, or perfect tanning rocks comfy enough to nap on. One can walk/climb quite a ways up this waterfall to get even better views or the scenic valley and mountains below.

This area contains 5 waterfalls. The first is beautiful and convenient, but is known by locals and so has a lot of garbage. Very few people go past this first waterfall. There is a small climb through the jungle and around a narrow cliff passage that unlocks the next 4 waterfalls. The 2nd waterfall while scenic and bigger is not great for swimming as it is quite shallow. The third is smaller but has an excellent view of the falls below and has a serene shady swimming area. The 4th is Colossus. Colossus as it's name may hint is huge. It is surrounded by massive sheer rock faces, covered with dangling vines and roots. The slow sloping cliff it runs along gives you a great range of cliff jumping options, but be careful! Some parts of the pool are not as deep as the others. However the water is crystal clear so bring some goggles.

Silver Falls and Big Danish
A little longer of a drive with a dirt road for the last 10 minutes or so, but a relatively easy walk to the first falls (Silver Falls). This first pool is excellent for moderate cliff jumping, bouldering, relaxing and swimming around. You can continue up the path past a dam to a pair of large waterfalls that form the confluence of two streams. There are also other smaller falls in the area if you choose to hike the river instead of the trail.

This waterfall has paid parking and is well-known to the locals. There is a road about half way up the valley, but from there its a fun bit of rock scrambling to get up to the big ledge. There are several small pools along the way and a pool near the waterfall. Views from the top of this waterfall are epic in nature.

The closest waterfall to Hoi An, fairy falls is well known by locals and there are often people at the lower pools. There are stairs built in and metal rails for the more difficult spots. Still a great place for a quick swim, some rock hopping, and shallow cliff jumping. Also the drive is quite beautiful.
This isn't the most epic looking Waterfall but it is a great place to hang out. It's a wonderfully scenic drive and a relatively short and easy hike. The pool is massive and deep. There is also some cliff jumping, but the main attraction is the slide. You can slide smooth as butter 3/4 of the way down the waterfall and splash until the refreshing pool at the bottom.
Waterfall Details
Warning: These are jungle treks for physically fit, experienced trekkers. These hikes are through the jungle with varying conditions based on weather and season. Locations do not include restaurants, service, or bathrooms. Some locations have trails which may have thick underbrush and generally include walking up steep hills. While others may not have trails. Efficiently packing is highly recommended.

****Note: Silver Falls and Big Danish are about 30 minutes hike from each other
*****Note: Colossus is a series of four waterfalls. The first is about a 30 minute hike and the last is another hour of hiking but is the most impressive
(Tours for solo travelers may not be available)
(as exchange rates change VND is the actual price)
Tours
6 Hour Tour Basic
$26 per person
(600k Vnd)
Overnight Trek
$90 per person
(2,100k Vnd)
Add-ons
 Motorbike Rental- $6.5 per day
(150k Vnd)
Motorbike w/ driver- $21 per day
(500k Vnd)
Food/water- $10.5 per person
(250k Vnd)

Car with driver- $60 per day
(1,400,000 VND)


Sample Itinerary- 6 hour
09:00am: Pick up at hotel, meet tour guide, and check bikes
09:15: Departure- Drive to waterfall ~1 hr
10:15: Park bikes and begin hiking ~1 hr
11:15: Arrive at destination- Relax, swim, and explore ~1 hr
12:00: Lunch then free time ~1 hr
13:00: Depart waterfalls- Hike back to bikes ~1 hr
14:00: Drive back to hotel ~1 hr
15:00: Arrive at Hotel
*Start times are flexible        
** Times may vary based on traffic, hiking pace, etc.
Packing Suggestions
We recommend that you bring your own supplies.
Things to bring include:
-Personal medications or first aid
– Sun cream
-Bug spray/ mosquito repellent
– A sun hat/ sunglasses
-Mask/goggles for driving
– Waterproof bag/backpack
– Quick dry clothing (long pants and sleeves for more arduous hikes)
– Proper hiking shoes that can get wet
-Water, snacks, or small lunch (if not arranged)
Contact us at:
Danangwaterfalls@gmail.com
*** Food and transport can be arranged, but other supplies are the responsibility of the guest. See packing suggestions
Cliff Jumper's Guide to Da Nang
Conservation
Additional Hikes
Additional Waterfalls
Contact us at :
DanangWaterfalls@gmail.com